Skip to product information
Lamb Rogan Josh
Regular price $12.99 Sale price $8.99 Save 30%
Shipping Policy:
We ship to all locations within Australia.
Orders are typically processed and shipped within 2-3 business days.
Free Shipping applied to all orders over $50!
We are constantly working on expanding our service, more locations in future!
Our exclusive Lamb Rogan Josh Curry blend is unlike any other, meticulously created to bring you exceptional flavours with minimal effort. Prepare to savour a dish that will leave you craving seconds!
Family Favourite

100% Satisfaction Guarantee

Free Shipping For Orders Over $50
Lamb Rogan Josh Recipe
Shopping List:
1kg lamb (cubed)
2 cups plain yoghurt
2 tablespoons crushed garlic
2 tablespoons crushed ginger
2 medium onions (finely chopped)
4 tablespoons sunflower seed oil
2 cups beef stock
5 teaspoons cream (optional)
Coriander (garnish)
Method:
Mix lamb and yoghurt and put aside
Heat oil in a deep pan, add whole spices and fry until they change colour (about 2 minutes)
Add onions and fry until golden
Add garlic and ginger and fry for 1 minute
Add spices and fry for 1 – 2 minutes
Add meat with yoghurt mix and fry well. 
Add Beef stock, 1 cup of water and simmer, stir often until gravy is reduced and add salt to taste
​
Optional:
Add cream and stir through
Serve with plain rice or Roti. Garnish with fresh coriander leaves
Serves 4 – 6
Vegan Jackfruit Rogan Josh Recipe
Shopping List:
1 Deelicious Dishes Rogan Josh Spice Mix
4 tins green jackfruit in brine
1 tablespoon blackstrap molasses
1 tablespoon dark miso (Hatcho/Genmai/Mugi) 
1 500g tub natural or coconut yoghurt (vegan)
1 tablespoon coconut oil or other oil
2 medium onions, diced
2 tablespoons each crushed ginger and garlic 
2 cups vegan Massal Beef Style Stock or 1 cube plus water
Fresh mint to garnish
Rice, cauli-rice or roti to serve
Method:
The day before, or at least 1 hour before cooking: mix the drained jackfruit with the molasses, miso, half the tub of yoghurt and the spice powder (not the whole spices) in the rogan josh mix. Chill overnight or for 1 hour.
Heat a large pan with the coconut oil and fry the whole spices (included in spice mix) until fragrant. Add the onions and sauté until soft. Add the garlic and ginger then the jackfruit with all the marinade. Add the liquid stock or 1 cube plus 2 cups water.
Cook for 15-20 minutes or until hot through. Check seasoning and add extra salt if needed.
Meanwhile steam your rice or pan fry your roti. Serve topped with extra yoghurt and coriander.
Can also be made with diced tofu or tempeh.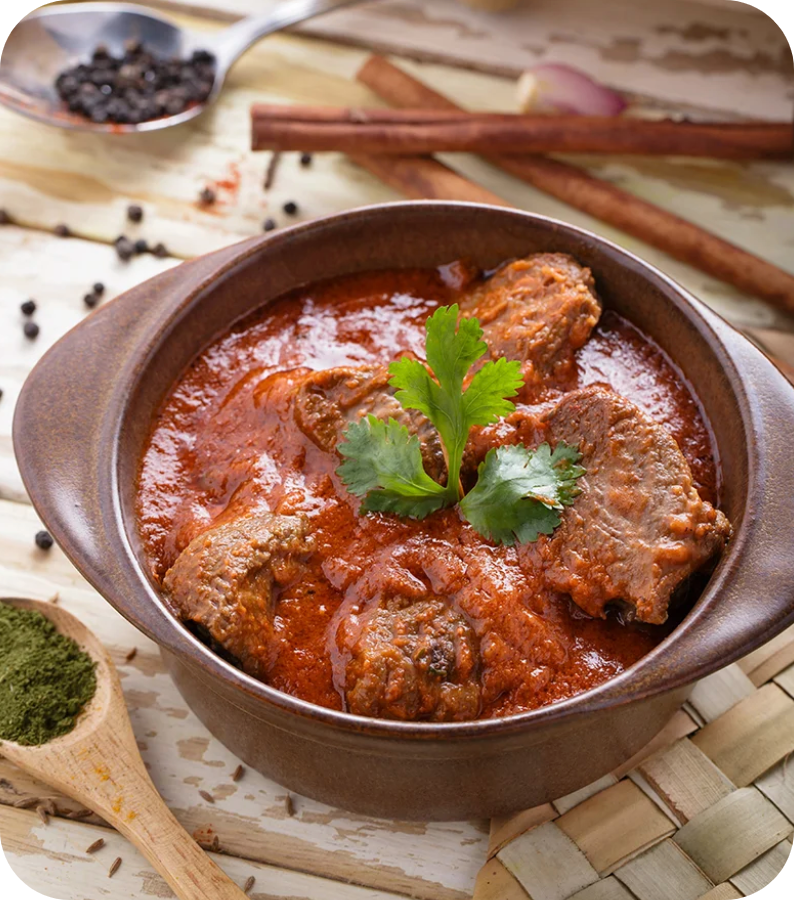 Show Us Your Skills!
Upload your dish to Instagram with the #Deelicious and show us your skills with our spices.
@DeeliciousDishes
What Our Satisfied Customers Are Saying
Happy Families
Cant Wait For More!
⭐⭐⭐⭐⭐
I recently cooked the lamb Rogan Josh and Butter chicken for family and friends. Everyone went back for seconds and they all gave them the big thumbs up! Can't wait to try more!
Thanks Dee!
⭐⭐⭐⭐⭐
Thank you for the opportunity to try your product Dee -Loved it, kids asked for more and wife who ususlly shys away from spicy food cleaned her plate. Highly recommend the product -You can taste the love in every dish!!! Will definayely be back for more....
FREQUENTLY ASKED QUESTIONS
We take pride in our meticulously crafted spice blends that combine premium ingredients to deliver exceptional flavors. Our dedication to quality and authenticity sets us apart.
No, our spices are free from preservatives and additives. We believe in providing pure and natural ingredients to enhance your culinary creations.
We accept PayPal, Visa and MasterCard but feel free to contact us for other payment options.
Our spice blends are incredibly versatile. You can use them in various dishes, from marinades and rubs to soups, stews, and more. Check out our recipe section for inspiration.
Absolutely! Many of our spice blends are vegan-friendly, allowing you to enjoy gourmet flavors while adhering to your dietary choices.
Customer satisfaction is our priority. If you have any issues with your order, please contact our customer support team, and we will do our best to address your concerns.