Skip to product information
Southern Fried Chicken
Regular price $12.99 Sale price $9.99 Save 23%
Shipping:
We ship to all locations within the Australia.
Orders are typically processed and shipped within 2-3 business days.
Shipping rates will not apply to purchases over $50!
We are constantly working on expanding our service, more locations in future!.
Are you ready to take your taste buds on a journey to the heart of the South? Look no further than our Southern Fried Chicken Mix, a true crowd-pleaser that's perfect for taming even the hungriest of hordes.
Experience the mouthwatering flavors of the South, expertly blended in this mix to deliver a truly unforgettable taste. With just a few simple steps, you can prepare and cook a dish that's not only incredibly flavorful but also remarkably tender.
Our Southern Fried Chicken Mix is a testament to ease and taste, making it a go-to choice for those who crave the soulful flavors of Southern cuisine. This mix ensures that every bite of your fried chicken is an explosion of taste that your family, friends, and guests will rave about.
Family Favourite

100% Satisfaction Guarantee

Free Shipping For Orders Over $50
Southern Fried Chicken Recipe
Shopping List:
Deelicious Dishes Southern Fried Chicken spice blend
1 Kg chicken tenderloins
250 ml buttermilk
1 1/2 cup plain flour
1/2 cup cornflower
3-4 cups vegetable oil
Method:
Mix 1 cup buttermilk with Deelicious Dishes Southern Fried Chicken spice blend, marinate overnight, or for at least 4 hours.
Add spicemix-2 to a mixture of flour and cornflour, and mix well.
Heat about 25mm deep of vegetable oil in a deep frying pan until it shimmers. If a cube of bread sizzles when you drop it in, it's ready.
Dredge the chicken in the flour mixture until well-coated and add to the pan in batches. Do not overcrowd the pan. When golden brown, turn and cook the other side until golden-brown.
Remove and drain on paper towels. Repeat with remaining chicken tenders.
Serve hot with salad and sauce of your choice. Great with aioli.
Freezer-friendly instructions:
The cooked chicken tenders can be frozen for up to 3 months. No need to defrost; put the chicken tenders on a wire rack on top of a rimmed baking sheet and bake in a 180°C oven until heated through and crisp, about 25 minutes. (Turn the chicken halfway through baking.)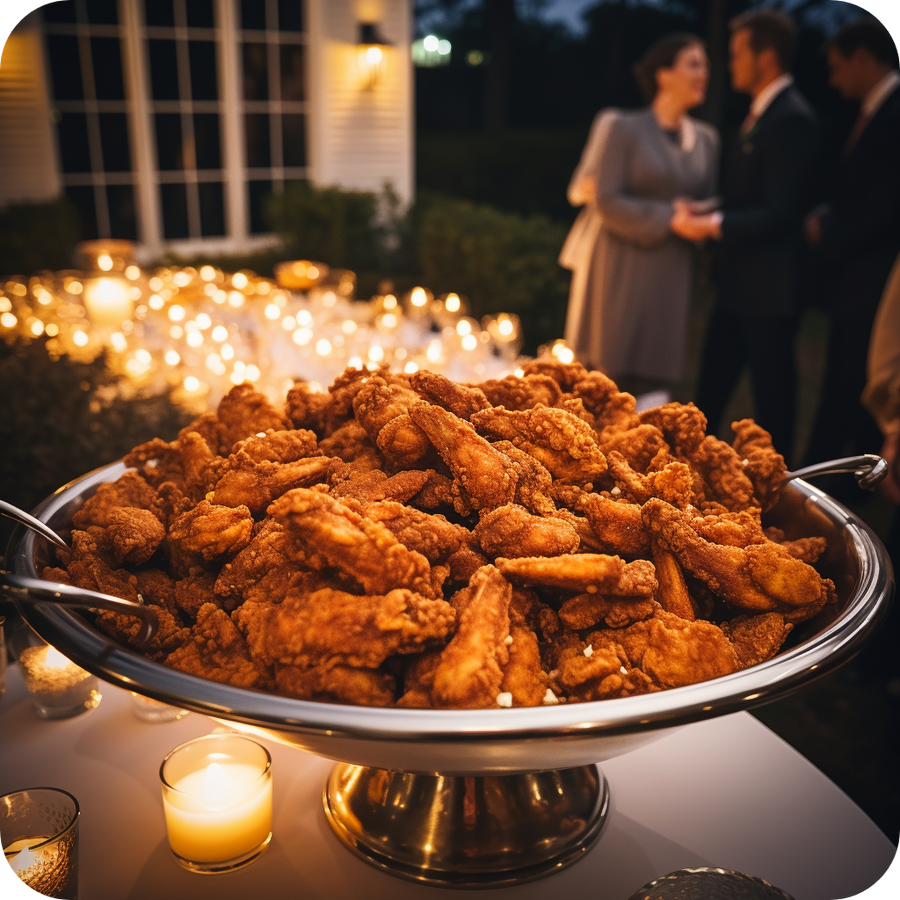 Great for Mates!
This Southern Fried Chicken Recipe is the ultimate choice for social gatherings, whether you're hosting a party or planning a get-together. It's a crowd-pleaser that will have your friends talking and craving more!
What Our Satisfied Customers Are Saying
Happy Families
Crowd Pleaser
⭐⭐⭐⭐⭐
I recently whipped up some chicken tenders using this spice, and let me tell you, they were a hit with my mates.
It was an absolute crowd-pleaser, and I received rave reviews from everyone.
Love From All
⭐⭐⭐⭐⭐
Thanks to Deelicious Dishes, Our work function was a memorable success and The 'Southern Fried Chicken' spice blend was the star of the show.
If You Like This, You'll Love These!
Add on optional description to this section
FREQUENTLY ASKED QUESTIONS
We take pride in our meticulously crafted spice blends that combine premium ingredients to deliver exceptional flavors. Our dedication to quality and authenticity sets us apart.
No, our spices are free from preservatives and additives. We believe in providing pure and natural ingredients to enhance your culinary creations.
We accept PayPal, Visa and MasterCard but feel free to contact us for other payment options.
Our spice blends are incredibly versatile. You can use them in various dishes, from marinades and rubs to soups, stews, and more. Check out our recipe section for inspiration.
Absolutely! Many of our spice blends are vegan-friendly, allowing you to enjoy gourmet flavors while adhering to your dietary choices.
Customer satisfaction is our priority. If you have any issues with your order, please contact our customer support team, and we will do our best to address your concerns.