Skip to product information
Tandoori Chicken
Regular price $12.99 Sale price $8.99 Save 30%
Shipping Policy:
We ship to all locations within Australia.
Orders are typically processed and shipped within 2-3 business days.
Free Shipping applied to all orders over $50!
We are constantly working on expanding our service, more locations in future!
This globally renowned dish is born from the harmonious fusion of our signature spice blend and creamy yogurt, making it a coveted culinary masterpiece celebrated in various corners of the world. Tantalise your taste buds with the sensation that has captivated food enthusiasts everywhere: our delectable Tandoori Chicken.
Family Favourite

100% Satisfaction Guarantee

Free Shipping For Orders Over $50
Tandoori Chicken
This highly-popular dish is created by mixing the spice blend with yogurt and has become the sought-after dish in many parts of the world.
Shopping List
Deelicious Tandoori Spice Blend
1Kg chicken pieces
250ml plain yoghurt
Fresh Coriander to garnish
Lemons
Method
Take 1Kg of chicken pieces, remove the skin and prick all over with a fork. Add the spices and mix well. Add yoghurt and mix again. Ensure all pieces are well coated.
Marinate 4–6 hours turning occasionally
Pre-heat oven to 220˚C
Place chicken on a wire rack and bake 10 minutes. Turn and bake another 10 minutes or until cooked through. Garnish with fresh Coriander and serve
Or, BBQ – Cook, baste occasionally with leftover marinade,  until juices run clear when pierced
Serve with lemon wedges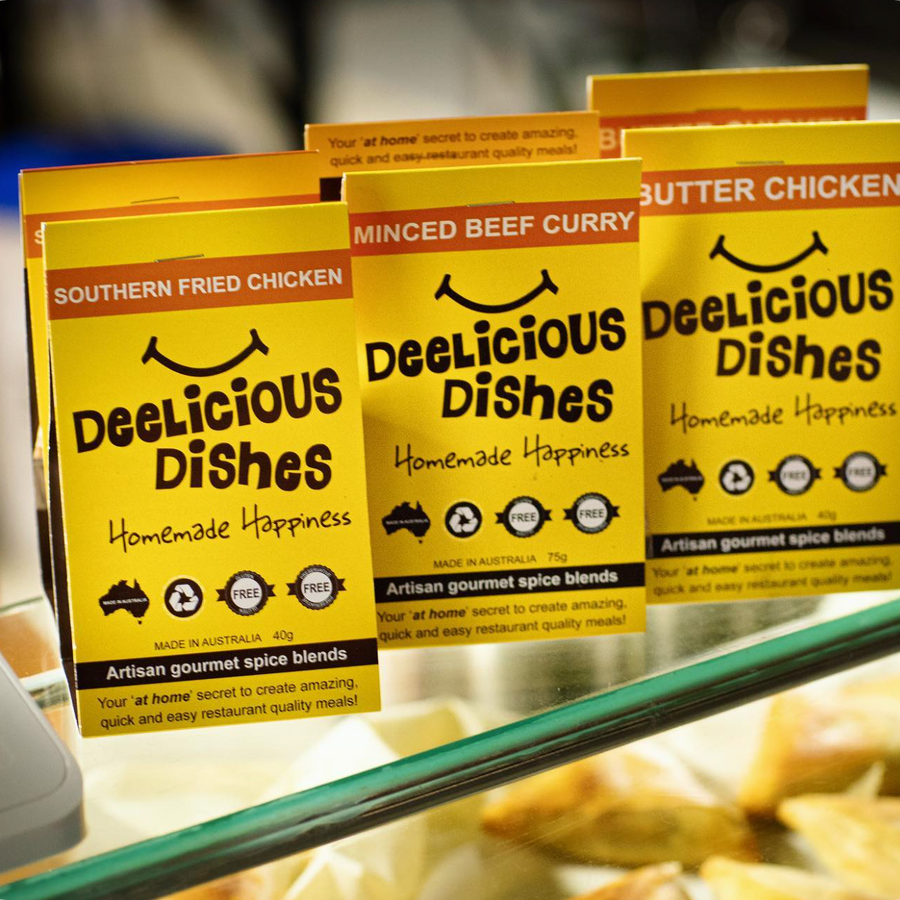 Buy More and SAVE!
Buying more means savoring more delicious moments in the kitchen without breaking the bank. With our premium spice blends, culinary adventures await, so why not indulge your taste buds and your wallet at the same time? Don't miss this opportunity to elevate your dishes and enjoy incredible savings.
What Our Satisfied Customers Are Saying
Happy Families
Beautiful Food
⭐⭐⭐⭐⭐
We enjoyed your beautiful food at the Greazefest last Saturday at Sandown. Oh my goodness... the most deeeee..licious. thank you . From us at Traralgon. Xx
Worth Every Penny
⭐⭐⭐⭐⭐
I can't say enough about the quality of Deelicious Dishes' spices. They are worth every penny and more!
If You Like This, You'll Love These!
Add on optional description to this section
FREQUENTLY ASKED QUESTIONS
We take pride in our meticulously crafted spice blends that combine premium ingredients to deliver exceptional flavors. Our dedication to quality and authenticity sets us apart.
No, our spices are free from preservatives and additives. We believe in providing pure and natural ingredients to enhance your culinary creations.
We accept PayPal, Visa and MasterCard but feel free to contact us for other payment options.
Our spice blends are incredibly versatile. You can use them in various dishes, from marinades and rubs to soups, stews, and more. Check out our recipe section for inspiration.
Absolutely! Many of our spice blends are vegan-friendly, allowing you to enjoy gourmet flavors while adhering to your dietary choices.
Customer satisfaction is our priority. If you have any issues with your order, please contact our customer support team, and we will do our best to address your concerns.