Skip to product information
Lime, Coriander and Black Pepper Chicken
Regular price $12.99 Sale price $8.99 Save 30%
Shipping:
We ship to all locations within the Australia.
Orders are typically processed and shipped within 2-3 business days.
Shipping rates will not apply to purchases over $50!
We are constantly working on expanding our service, more locations in future!.
Discover the Zesty Symphony of Lime, Coriander, and Black Pepper Chicken!
Elevate your culinary creations with our Lime, Coriander, and Black Pepper Chicken marinade, a flavor-packed sensation that can transform up to 1.5kg of chicken or pork into a mouthwatering masterpiece.
Whether you're planning to roast in the comfort of your oven or sizzle on the barbecue, our versatile marinade has got you covered. Just follow the straightforward instructions, and you'll be well on your way to enjoying a meal bursting with extraordinary flavors.
Family Favourite

100% Satisfaction Guarantee

Free Shipping For Orders Over $50
Lime, Coriander and Pepper Chicken Recipe
The kind of blend that makes you want to eat your chicken with your hands just so you can lick your fingers afterwards!
Shopping List:
8 Chicken pieces or 1.5kg of chicken
8 Garlic cloves
2 tablespoons of salt flakes (or to taste)
1 tablespoon Shrimp Paste
1.5 tablespoons vegetable oil
2 limes (juiced)
Fish sauce
Fresh Coriander
Method:
Mix together the spice-blend, grated/chopped garlic, salt flakes and Shrimp paste.
Rub this mixture onto the Chicken, or tip into a large zip-lock bag, add vegetable oil and massage into the chicken pieces
Set aside for 30 minutes
Preheat the oven to 200°C, and pre-heat the baking dish in the oven
Remove the baking dish from the oven, put the chicken into the dish and scatter 

all

 of the marinade over the chicken. Bake approximately 45 –55 minutes
Turn regularly until golden brown
Remove from oven, sprinkle over Lime juice and Fish sauce (to taste)
Rest for 5 minutes then serve with pan-juices, garnish with Coriander
​
Great with Fish, Pork
Serves 4—6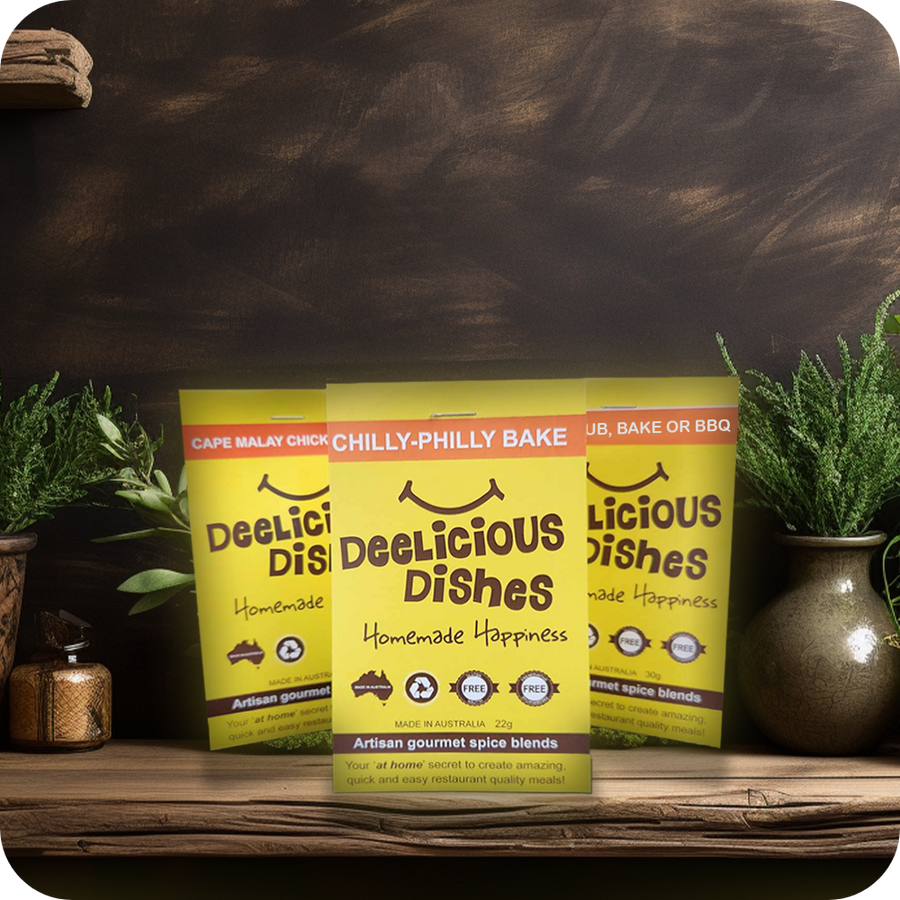 Chicken Lover? Try Our Tasty Trio Spice Bundle
Elevate your chicken dishes with our Tasty Trio Spice Pack, specially crafted to enhance every bite. Transform your chicken meals into flavorful masterpieces with ease. Don't miss out on the culinary adventure – try it and save today!
What Our Satisfied Customers Are Saying
Happy Families
Impress The Colleagues
⭐⭐⭐⭐⭐
AMAZING!! So happy I have tried and tested these amazing spices! Massive hit with all my colleagues and family. Will definitely be ordering again and again! Thank you Dee!!
Flavour-Full
⭐⭐⭐⭐⭐
I can't say enough about the Lime, Coriander, and Black Pepper Chicken spice blend! It's like a flavor explosion in every bite.
It's a must-have in my kitchen, and it never fails to impress my family and guests. Highly Recommend!
If You Like This, You'll Love These!
Add on optional description to this section
FREQUENTLY ASKED QUESTIONS
We take pride in our meticulously crafted spice blends that combine premium ingredients to deliver exceptional flavors. Our dedication to quality and authenticity sets us apart.
No, our spices are free from preservatives and additives. We believe in providing pure and natural ingredients to enhance your culinary creations.
We accept PayPal, Visa and MasterCard but feel free to contact us for other payment options.
Our spice blends are incredibly versatile. You can use them in various dishes, from marinades and rubs to soups, stews, and more. Check out our recipe section for inspiration.
Absolutely! Many of our spice blends are vegan-friendly, allowing you to enjoy gourmet flavors while adhering to your dietary choices.
Customer satisfaction is our priority. If you have any issues with your order, please contact our customer support team, and we will do our best to address your concerns.